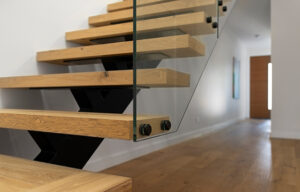 Require a designer look stair tread? Beyond Wood also produces customized stairs to suit your desired requirements ensuring a unique fit. We work with your specifications to create a stair that is one of a kind. Architects and designers love this option to custom design as it provides the ability to suit the client's style as well as perfectly colour match the stairs to your timber flooring providing a seamless finish.
Hickory is sought after for many applications due to its strength, toughness and hardness. It is commonly used in tool handles, drumsticks, baseball bats, wooden wheels, furniture and flooring.
Our collection is 100% waterproof, fire resistant and features extra-long and extra-wide dimensions. All the composite materials are first time used, giving it the ultimate inner strength to withstand any pressure on top, it is also scratch-resistant and stain-resistant. Our stone plastic composite flooring is made up of 70% stone which nearly eliminates the expansion and contraction that other vinyl flooring are plagued with.