Hickory Homestead
Engineered Timber Floors | Hickory Flooring Melbourne
Hickory Homestead, crafted by nature. Antique charm masterfully, crafted hardwood engineered with modern chisel cut techniques.
 2100mm * 178mm * 12mm
UV Lacquer
Wire Brushed
Hand Scraped
Matte Finish
Rustic Style
Nested Boards in the packs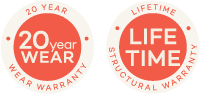 Hickory Timber: Take a walk on the wild side with one of the World's most dense hardwoods. If trees were human, hickory would be the envy of all mortal beings: tough, docile, and incredibly good looking. Our hickory timber floors are a must see.
Our hickory homestead timber flooring is only available as a long board timber flooring solution. It is not (yet) available as herringbone and chevron parquetry.
Take a walk on the wild side with our Hickory Floors