Hickory Classique
Engineered Timber Floors | Hickory Flooring Melbourne
With similar texture to European Oak and unique colours, plus high stability and durability, Hickory Classique ticks all the boxes.  The fusion of hardness, strength, toughness, and stiffness not commonly seen in any other timber flooring products, combined with warm colours makes Hickory Impression flooring a splendid choice for any home.
1900mm * 190mm * 12mm
UV Lacquer
Wire Brushed
Matte Finish
Nested Boards in the packs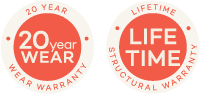 Hickory Timber: Take a walk on the wild side with one of the World's most dense hardwoods. If trees were human, hickory would be the envy of all mortal beings: tough, docile, and incredibly good looking. Our hickory timber floors are a must see.
Our hickory classique timber flooring is only available as a long board timber flooring solution. It is not (yet) available as herringbone and chevron parquetry.
Take a walk on the wild side with our Hickory Floors